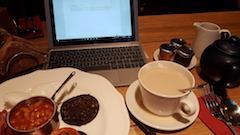 #CookingUpChange - Ema's Visit to Westminster
So I have been saying for ages now, I will start writing some small notes about our days within Neo and what we all get up to on a day to day basis.
So where better to start than sitting in a quaint little pub in Westminster, London, after a very inspiring day spent at the End Hunger UK conference. The conference brought together so many of the people working to ensure Food Insecurity in this country is a phrase of the past, not the present. It was really good to see so many of the Feeding Britain network members there along with a stand for action from Frank Field MP, on ensuring we push to have every member showing their support for the Holiday Hunger Legislation, which; for every penny this government needs to be saving and every crisis they are asked to address, how can anyone turn their back on children going hungry, this Is not about any political party, area divide or objectives this is about a human right, that no one should be going without the access to good quality safe food.
We heard from Sharon Hodgson MP who spoke with true understanding and passion for the problem and supports the move to have a dedicated minister to coordinate and mobilise action across government to end household food insecurity across the whole of the UK. This is exactly what we need, although organisations, community groups, schools and private business are doing so much to address the problem the responsibility to solve this complex issue, should be one dealt with by government at all levels, not by the few members that are going above and beyond and others ignoring the problem. But before this just becomes a rundown of the politics behind the work we do around food, back to talking about the day.
The day filled me with more hope and ideas that there is so much power in the hands of the people and we are making massive change, a figure released yesterday by the independent food network and the Trussell Trust, it shows that volunteers give over 4 million hours of support to food banks every year which equates to £30.9 million of unpaid work hours and that doesn't include all the other hundreds of community projects running across the country. It just shows how strong and resilient communities are again becoming to tackle problems we just have to make sure something is done, with hunger and waste before even the safety net we have formed begins to rip with a terrifying 1 million more children facing poverty in 2018 and a Universal Credit roll-out set to cause chaos. This is a chance for change and chance to fix a process that allows so many people to fall instead of being caught.
Today Mr Gauke faced a grilling on the Universal Credit dilemma and the 55p a minute helpline charge and sitting here now typing this my phone has just beeped to tell me at 10:06 am Mr Gauke has said, "given the recent attention and concern that this could place a burden on claimants, I have decided that this will change to a freephone number over the next month." Well, you and I may see that as an obvious in the first place but that wasn't the case so I think we just need to see this as yet another step, however small, in the right direction.
Away from Politics again and now after a little walk around for an hour or so as a tourist I am off to go and see another amazing set up in London; The People's Supermarket, so lets see what that will bring and what ideas we may be able to share and bring back to our project.
Then off to Parliament this afternoon with many of our colleagues and friends from across the country to Call for Action ourselves and have our voices and ideas heard.
Time for an action-packed day!
Ema,
Managing Director,
Neo Community
#CookingUpChange